In 2017, Rachel and I started the tradition of a yearly race road trip, which we affectionately titled our "Meatball Road Trip" (thanks to watching Big Brother and one of the house guests referring to everyone as meatballs). Last year's trip was to Vacation Races Shenandoah Half.
This year we checked a bucket list race off at the Bird-in-Hand Half and added a new meatball, Katie, to the mix!
If you're a long time reader of ScootaDoot, you might remember when Vic and Kyle ran in 2013 and again in 2014.
Having read Vic's blog posts, I was expecting it to be hot and humid. That seems to be standard fare for this race.
We visited the expo Friday afternoon and the weather was decent. The weekend is a community event in Bird-in-Hand with a hot air balloon festival, picnic, and the race happening. Friday night there's a 5k and kids race with the half marathon happening on Saturday morning at 7:30 in the am.
Communication from the race organizers was primarily via witty email. The race does have social media accounts but there's not much interaction on those.
We got to see a few hot air balloons getting filled as we got our bibs, shirts, and bags with goodies which included whoopie pies, animal crackers, and pretzels.
After dinner at Dienner's (which you know we had a fun time saying repeatedly) we took a trip to Target (what's a road trip without forgetting random things) and then headed back to our hotel.
Perusing the weather app the night before we were pleased to see that it it looked like it was going to be cooler and maybe the tiniest bit misty. Like, barely even noticeable.
Therefore we were somewhat surprised when we opened the door of our hotel room on Saturday morning to find a pretty steady stream of rain come down.
No more hot air balloons for us. Whomp whomp.
Rachel had a meniscus tear earlier this summer so we knew going into this race that we were going to just have as much fun as possible. Pictures, selfies, mullet crew style – party in the back! With a 4 hour course limit, we knew that we'd be able to finish within the time frame and have fun while doing it so that was our plan from the get-go.
Look, the race even gave us a list of things to look for/take pictures (okay, we added that last part in ourselves).
The course was absolutely beautiful. Hilly, as we expected, but gorgeous. The water stops were manned by Amish children and they were plentiful. Originally Rachel and I were planning on wearing hydration vests but with the cooler temps we decided to forgo them. It worked out really well.
We decided on 1:1 intervals. At mile 3 this gentleman was out there, in the rain, ringing a cowbell and cheering for us. He saw my BibRave shirt and asked, "Will I be in your review?"
Rachel and I weren't able to keep up with Katie's running interval so about halfway into the 3rd mile she went ahead and we continued bopping along, doing our thing.
We passed by crops and gardens and one room schoolhouses and animals.
My favorite part of the course was mile 6, which was an out and back section. We got to see other runners, including lots of friendly faces of Team Shenanigans!
A few of the members had run the 5k the night before and were at an intersection giving out Twizzlers and cookies. Yes please!
There were some more hills and we continued along, occasionally throwing in some running intervals when we felt like it.
Oh, did you see up there on the list where it says "road apples"? For those not in the know, road apples are piles of horse poop and they're common in Amish country.
At one point I was chatting with Rachel and very nearly stepped in horse poop. Thankfully she was paying attention where I wasn't. I ended up doing a quick do-si-do around that!
There was one area where the traffic was particularly hairy and it didn't seem like the vehicles were slowing down considering there was a race going on. It made us understandably nervous, especially when there were cars on both side of the road.
I know that not all areas can be a closed course but a suggestion is to have a bit more of a police presence to encourage drivers to slow down.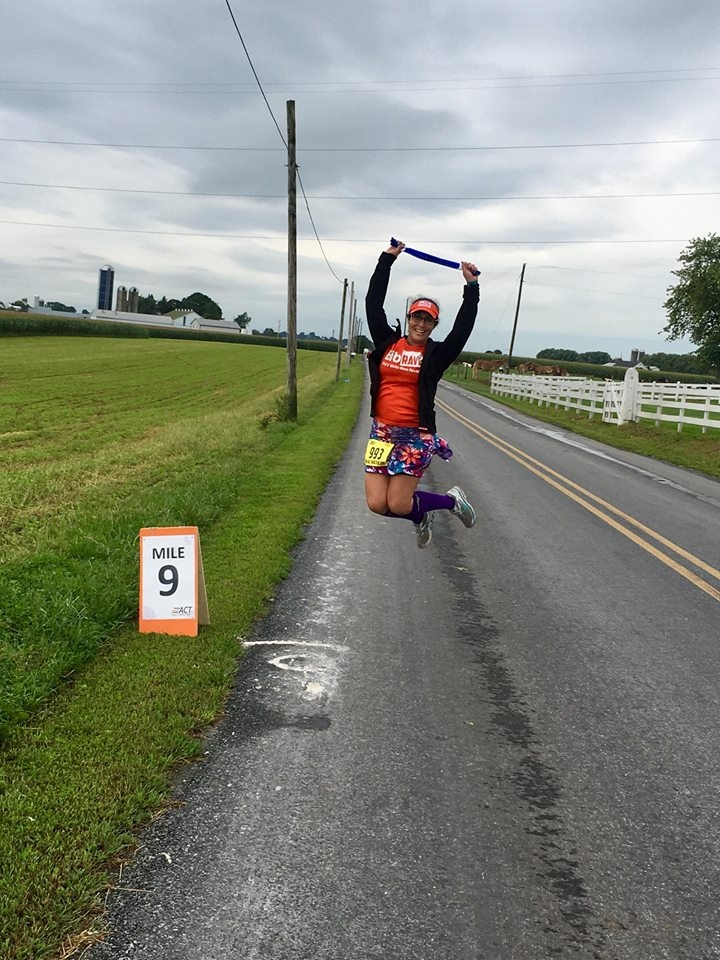 In between miles 9 and 10 we were treated to a scoop of mango Rita's Water Ice, which was incredible, even on a not hot day. Soon after that we turned off the main road for a little off-roading experience.
We chatted with people along the way, our fellow mullet crew friends. Some were not having as much of a party as we were (hey, we've all been there), so we tried to quietly encourage.
In the last mile there was an area which was matted down grass and mud. It was really uncomfortable because you couldn't firmly plant your feet. If you did, you might get stuck in the mud; it was better to just tread lightly on the grassy area.
It was flat but to be honest, I would take the paved hills over that area any day.
Finally we saw the large white tent and turned onto the road that we knew would be the final stretch of our journey. And it's a good thing too.
The medals are made from re-purposed horseshoes and they are incredible! I remember being in awe of them when Vic and Kyle did the race and I'm extremely glad that I finally got one of my own. I felt like this race was untouchable for me for awhile – one that I wouldn't/couldn't do because of my lack of speed, not to mention my lack of hill training. I'm glad that I went outside of my comfort zone and had Rachel by my side to have fun with all the way!
Sadly, even though we finished within the allotted time, the race photographer was not there to catch our spectacular finish. While I most likely wouldn't have purchased pictures, I still found it to be a bummer. Thankfully Katie was at the finish and she nabbed a few pictures of us!
There was a recovery area and Rachel headed there for a massage while the rest of us went to the tent for the community picnic. The food 100% hit the spot!
At $103 for registration (with fees), this race is definitely more pricey than others I've done. The race is very well organized and you get a lot of bang for your buck but the price point is worth noting since it's something I know many take into account when looking at races. Even still, I'm so glad that I'm able to check this one off my bucket list!
Next on tap, the Scooby-Doo virtual race (I'll be sharing more about that in tomorrow's post!), which works out really well with my Healthy Kids Running Series starting up this weekend. Hoping that the weather cooperates and we are able to get out there and running with the kids!
Oh, one more thing! We're having a TRISHMOVES giveaway now through Friday (9/14/18) on Instagram! I got to try these delicious bars at the City Fit Girls retreat and they are really yummy. Plus, I'm always one that likes to support Philly based companies, which TRISHMOVES is! Be sure to swing by and enter yourself (and a friend) to win a box! CLICK HERE to enter.