Disclaimer: I received free entry to the Mushroom Cap Half Marathon race as part of being a BibRave Pro. Learn more about becoming a BibRave Pro (ambassador), and check out BibRave.com to review find and write race reviews!
NAME: Mushroom Cap 1/2 Marathon, Relay and Charity 1 Miler
LOCATION: Kennett Square, PA
YEARS IN EXISTENCE: 4
NUMBER OF RUNNERS IN 2019: 469 individual runners and 107 relay teams
The Mushroom Cap 1/2 Marathon Relay is a race I'm not soon to forget! I love when BibRave partners with local races and being from New Jersey, when I saw the opportunity to run in Kennett Square, PA I was excited to jump on board.
There was no expo for this race but there were two packet pickups earlier in the week. The Sunday before the race was at a running store and the night before the race at the start location.
I think this race and its runners would benefit by offering a morning of the race packet pickup. I know it was a little difficult for some to coordinate with the times. Thankfully I was able to grab a friend's bib who wasn't able to make it to either of the times offered by showing a copy of her identification.
The swag was a long-sleeved quarter zip shirt (that has thumb holes and a small key pocket). We had the option of a dark blue or this powder blue above. It's very comfortable and I like it much more than the standard race shirt.
It was a chilly 31 degrees on race day. I woke up before my 5am alarm, anxious to hop in my car and drive about an hour to Kennett Square.
Arriving with plenty of time to spare (as is my way), I sat in my warm and toasty car as long as possible. On the ride there, I drove part of the course. Hello hills!
I was nervous about the course, but overall I knew that I could trust in my distance training.
Before the race I was able to meet up with friends and there's always comfort in being with people you know and love. Rachel, Katie, and I questioned our sanity multiple times as we stood together, shivering.
Fellow BibRave Pro, Ken (of KenStandsonThings) joined us as in the race village; the was area set up with tents, tables, and portapotties. We timed it so we wouldn't have to wait too long in the cold and made sure that Rachel had time to get on the relay shuttle bus and head to the exchange area.
The start and end point of the race was The Creamery. It was previously the Eastern Condensed Milk Company. In 2016 the current owners opened it after revitalization as a pop-up beer garden and community space. Really awesome spot!
Katie and I placed ourselves near the 3:00 pacer. During my training runs I've been keeping anywhere from a 11:30-13:30 pace using 1:1 intervals. Most of my training runs are flat though so I wasn't sure how this I'd fare. I figured as long as I kept the 3:00 pacer in sight, I was doing okay. I wasn't aiming to be a hero, I just wanted to get to the relay exchange in a decent time.
A few minutes after 8am, we started to run. Immediately Rachel texted and said she wasn't getting the messages from the tracking app, RaceJoy. Rather than continually have it open on my phone Rachel, Katie (who was running the entire 1/2, bless her legs) and I decided that we'd occasionally text to check in.
Looking back at our text messages is amusing! There was a lot of cursing going on!
Katie and I stuck together for the first two miles. There was a killer hill in mile one and that set the tone for the rest of the race. Rather than getting too much in my head I decided that I'd take it easy on the uphills and cruise the downhills. Thankfully the roads were closed for the entire event and the runners were able to spread out.
Katie peeled off to use a portapotty as we turned into a neighborhood section of the race and instructed that I go on (up a large hill, I'm sure you're shocked to hear). This portion was an out and back area, full of ups and down.
The aid stations of this race are phenomenal. Hosted by local groups and businesses, they were well stocked. I didn't take advantage of them because I just wanted to keep moving and get to Rachel.
Around the 4 mile mark I passed the 3:00 hour pacer and according to the app, I was on pace to get to Rachel in 1:26 for 6.6 miles.
This hill greeted me in mile 5. Once I hit the gravel, I knew I wasn't far from the exchange. I was more than ready to be done and when I saw the signs telling the relay runners to stay to the right, I happy obliged.
Rachel was waiting for me in the exchange area and helped me take the timing chip off my ankle and transferred it to hers. Before she left on the second half of her journey I thought I should impart some words of wisdom. But apparently, it came out like this.
Mer grabbed my arm and with terror in her eyes, said something like "The hills. It's so hard. The hills…..Don't even try to run them. Just walk the hills and run down…" then she hugged me and yelled "good luck" as I ran away.
Whoops?
I was so busy giving Rachel this amazing pep talk I forgot two very important things:
to shut off my watch
to look at the medal
It wasn't until I was comfortably seated on the bus that I realized/did both! I chatted with the folks I was seated near and we all lamented the hills.
Once we arrived back at The Creamery I stood near the finish line and cheered for a bit. I was able to meet back up with Ken and see lots of people from my local running group. I even got to meet Instagram friend, Alexis (beer_runner85)!
All the while, I was in contact with Rachel and Katie via text. They informed me that they were the last ones on the course and had a line of police cars following them. Once I knew where they were on the course, Ken and I headed into The Creamery to warm up and grab our complimentary beer. We had the choice of an Ale or IPA and there was a great band entertaining the masses!
I heard from Rachel that they were nearing the finish line so I headed back to claim my spot just past the timing mats. Sure enough, I could see them about a quarter mile away, with their police escorts behind them!
I was hooting and hollering and telling everyone at the finish their names so they could cheer as well. I'm pretty sure everyone thought I was crazy and they'd be right. I was so happy to see my Mullet Crew!
Please note that while the course limit was 3:30, they were the last ones to cross at 3:11. We were so PROUD. There's two ways you can look at being DFL and I think we were all very happy that things shook out the way that they did.
Because we were very last relay team to cross the line, we got a PRIZE. We were awarded mushrooms and a $50 gift card to Sovana Bistro! That was a really nice surprise.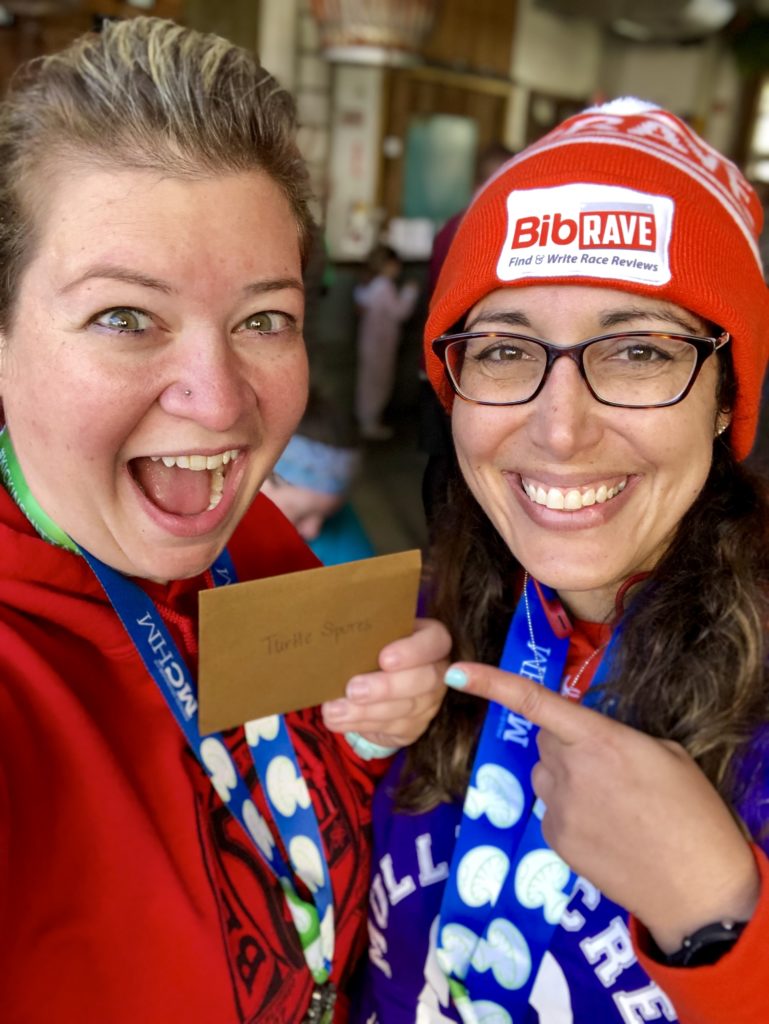 All in all, the race was incredible. Great communication, awesome aid stations, loved being a part of a relay team, and the afterparty was amazing!
The only complaint I have? THOSE HILLS. Again, not in any way, shape, or form a shock. Just very, very difficult!
Thanks to BibRave and Mushroom Cap for the great opportunity to check this one out! If you're looking for a challenge, be sure to put this on your bucket list.
Next up for me is a local 5k (William T. Nace Tin Man) and the Rothman 8k during Philadelphia Marathon Weekend. What's on your race agenda?