Shortly after our wedding, Clay and I decided that we wanted to change our diet. Again. Not entirely surprising, if you know us at all (I write about food a lot)… but this shift was definitely bigger than any we'd done before.
We'd been watching Food Inc., which we'd both previously seen, and it reignited our concerns about factory farms and agribuiness' negative impact on the environment. Since ultimately we vote with our dollar, we decided to try being vegetarian – choosing not to buy meat, and really looking into where our food comes from.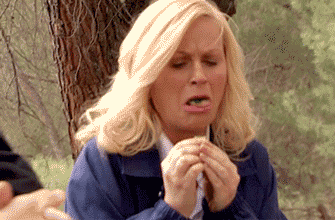 This shift has been really eye opening all around. Since we also pay pretty close attention to our macronutrients to ensure that we are still getting the appropriate amount of protein, fat and carbohydrates, we've had to really consider carefully the types of vegetarian food we depend on. Turns out it isn't as difficult as you might think to get plenty of protein with vegetarian food sources. We end up eating a lot of tempeh, tofu, and tofurky sausages to help us hit our numbers – and truth be told, everything is super versatile and very tasty.
We still try to eat pretty clean: no added sugars, lots of vegetables, very little processed food. While now we eat a lot more carbohydrates than previously, I've found – and I think Clay would say the same – that my body appreciates a more carb-heavy diet. I find myself with more energy, which is vital to fueling my workouts. I also find myself feeling lighter. Figuratively, if not literally. Being vegetarian has allowed me to eat much more intuitively, which has allowed me to feel significantly less stressed about food. I still track everything in My Fitness Pal and eat clean, but I also allow myself to enjoy cookies or Halo Top or pancakes. Consequently, my body feels good and so does my mind. This works for me – and while it may not be everyone's cup of tea, it certainly fulfills my desire to have a positive impact on the planet as well as a healthy lifestyle.
Three cheers for finding peace with food.
One of our favorite go-to recipes while on this vegetarian venture has been Thai Red Curry from Cookie and Kate.
This recipe is super easy (we modify it a bit to cut out the sugar and the rice (sometimes we make it and sometimes we don't). To make the prep easier, we'll often split up the tasks: Clay will cut all the veggies beforehand so when it's time to make dinner, all I have to do is assemble the pieces. We also add tofu to bump up the protein content, and it's super delicious.
Give it a try!
INGREDIENTS
1 ¼ cups brown jasmine rice or long-grain brown rice, rinsed
1 tablespoon coconut oil or olive oil
1 small white onion, chopped (about 1 cup)
Pinch of salt, more to taste
1 tablespoon finely grated fresh ginger (about a 1-inch nub of ginger)
2 cloves garlic, pressed or minced
1 red bell pepper, sliced into thin 2-inch long strips
1 yellow, orange or green bell pepper, sliced into thin 2-inch long strips
3 carrots, peeled and sliced on the diagonal into ¼-inch thick rounds (about 1 cup)
2 tablespoons Thai red curry paste
1 can (14 ounces) regular coconut milk
½ cup water
1 ½ cups packed thinly sliced kale (tough ribs removed first), preferably the Tuscan/lacinato/dinosaur variety
1 ½ teaspoons coconut sugar or turbinado (raw) sugar or brown sugar (we don't do this)
1 tablespoon tamari or soy sauce (we use coconut aminos)
2 teaspoons rice vinegar or fresh lime juice
Garnishes/sides: handful of chopped fresh basil or cilantro, optional red pepper flakes, optional sriracha or chili garlic sauce
INSTRUCTIONS
To cook the rice, bring a large pot of water to boil. Add the rinsed rice and continue boiling for 30 minutes, reducing heat as necessary to prevent overflow. Remove from heat, drain the rice and return the rice to pot. Cover and let the rice rest for 10 minutes or longer, until you're ready to serve. Just before serving, season the rice to taste with salt and fluff it with a fork.
To make the curry, warm a large skillet with deep sides over medium heat. Once it's hot, add the oil. Add the onion and a sprinkle of salt and cook, stirring often, until the onion has softened and is turning translucent, about 5 minutes. Add the ginger and garlic and cook until fragrant, about 30 seconds, while stirring continuously.
Add the bell peppers and carrots. Cook until the bell peppers are fork-tender, 3 to 5 more minutes, stirring occasionally. Then add the curry paste and cook, stirring often, for 2 minutes.
Add the coconut milk, water, kale and sugar, and stir to combine. Bring the mixture to a simmer over medium heat. Reduce heat as necessary to maintain a gentle simmer and cook until the peppers, carrots and kale have softened to your liking, about 5 to 10 minutes, stirring occasionally.
Remove the pot from the heat and season with tamari and rice vinegar. Add salt (I added ¼ teaspoon for optimal flavor), to taste. If the curry needs a little more punch, add ½ teaspoon more tamari, or for more acidity, add ½ teaspoon more rice vinegar. Divide rice and curry into bowls and garnish with chopped cilantro and a sprinkle of red pepper flakes, if you'd like. If you love spicy curries, serve with sriracha or chili garlic sauce on the side.